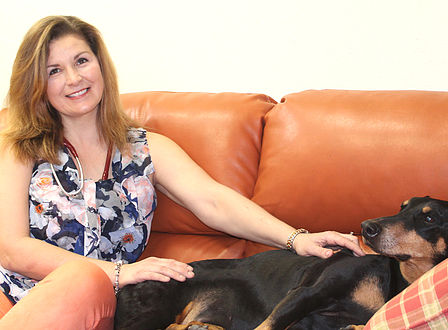 I am Dr. Kate, a small animal veterinarian. My love for animals goes back as far as I can remember. My parents never allowed me to have indoor pets as a child, which made me even more determined to touch and love any dog or cat that crossed my path.
My lifelong love for animals has resulted in me being the "parent" to an array of dogs, cats, horses, fish, sugar gliders, bunny rabbits, rats, cockatiels, and a cockatoo. Currently, I have a furry family consisting of two Dobermans, a Chihuahua, and three cats. My intrinsic love for animal health and well-being is exemplified through my lifelong pursuit to be the best veterinarian possible. I graduated with high honors from the University of Florida College of Veterinary Medicine in 1992, and I have practiced veterinary medicine for the past twenty-three years in both California and Florida.
One of the things I observe as a veterinarian is that many animals display fear during their visit to a veterinary hospital. There are many signs of fear, but the most commonly observed behaviors are quivering, shying away from strangers, inappropriate urination and defensive aggression. I feel that there must be a way to alleviate my patients' distress, and I have always wanted to provide an atmosphere where your pets feel as comfortable as if they were at home, or at the very least in my home. I am pleased to say that this concept has become a reality now that Dr. Kate's Pet Clinic is open to help your four-legged family. In my practice, the waiting and consultation rooms are welcoming and comfortable, much like visiting a friend's home rather than a trip to a medical office. Since Dr. Kate's Pet Clinic opened its doors, the response has been exactly what I pictured: cats come out to play with the toys in the cat room and lounge on the furniture, while dogs sniff, explore, and rest on the beds in the dog room.
Not only do I want a warm and relaxing environment for your pets, I believe that great emphasis should be placed on the amount of time spent with both you and your pet during your visit. Our pets are an integral part of our life, and all of your pets I consider to be in my family.
Thank you for your confidence and for entrusting your pet's care to me.